The Rooster Company
A-
1076 Main St, Newington, CT 06111
Brunch Menu, Lunch Menu, Dinner Menu, Drink Menu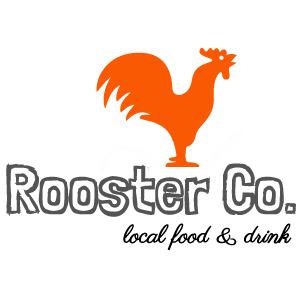 A lot has changed since 2015 when we last updated our blog. Not only have our lives changed but the restaurant business in Connecticut has changed dramatically as well. When we started writing in 2012, people in Connecticut seemed to favor chain restaurants over local ones. In 2017, the opposite seems the rule with new fusion, ethnic, organic and local sourcing restaurants popping up all over the state. The same can be said of wineries and breweries as well. In our state's tough economic times, people are looking for an escape when they go out. They are looking for something new and exciting. The Rooster Company in Newington has tried to be that something new for Newington residents.
Atmosphere: 9.5/10- Several restaurants have occupied the location prior to The Rooster Company's opening. While the building has always maintained a rustic feel to it, the current owner has done much to authenticate the place. Local artist and chef Andres Montiel has adorned the restaurant with numerous appeasing paintings. Some parts of the restaurant are more privy to these paintings than others. The restaurant also offers comfortable seating for its customers and an open bar.
Service: 9/10-On weekends, the Rooster Company can be awfully busy and on one visit, we had to wait a little longer than expected for our food. The wait staff, however, has always maintained a cheerful and respectful disposition that makes one feel welcome, no matter how busy they are. The owners, Chef Kenneth Ward and his wife Jaime Ward, have worked in the restaurant industry for more than 40-years. One can tell they take pride in their business and customers. They also make a point to use local ingredients to create their cuisine.
Price/Selection: 8.5/10-This category caused us to have mixed feelings. One can have a filling meal by ordering a half rotisserie chicken and side. The main dishes, however, range from $17-29 dollars. If you plan on eating any of the main entrees, we recommend that you carry a few extra bucks with you. Their lunch menu is more affordable, ranging from $12 to $16 per entree. If you stop by for brunch, you can expect to pay no more than $14. Despite the high prices on some dinner menu items, the Rooster Co. compensates with a wide variety of dishes that range from seared salmon to arctic char. Their drink menu also has a wide variety of drafts, cocktails and wines. They also have specials such as TH'ACO THURSDAYS to keep frequent customers interested.
Taste: 9/10-This picture from The Rooster Company's website captures the deliciousness of their rotisserie chicken, their signature menu item. The chicken is savory, especially when topped with its fire fire lemon, walnut herb, not so hot, 'Tandoori' yogurt or Cola BBQ  sauce. The main dishes are equally savory, especially the risotto braised lamb. We only wish the sides carried as much mouth watering flavor.
In a nutshell: 36/40- We have enjoyed our experiences at The Rooster Company over the past couple of years, especially devouring the rotisserie chicken, experiencing the rustic feel and admiring the paintings from acclaimed local artist and chef Andres Montiel.  While our bill sometimes runs a bit high, we always leave full and satisfied.
Recommendations: The name of the restaurant is The Rooster Company, but to our knowledge, rooster is not an option on the menu. With the collective expertise of the chef team, we believe they could cook up a delicious Coq au vin or capon!